Read on for ideas for parents, teachers & students - Plus new releases and a free download!
For many people, this time of year is usually filled with purchases of new backpacks and lunch boxes, trips to the store with school supply lists, and pictures of kids before their first day of classes. But like so many previous months in 2020, September is looking a little unusual. You may now find yourself teaching in a different way than ever before, or balancing working while also trying to monitor your kids who are learning virtually from home, or perhaps even beginning a new homeschooling process. With so much of what is happening right now out of our control—stress, unknowns, new challenges swirling all around—simplifying what we can is essential.

PARENTS
Perhaps the group most needing versatility and sanity these days is parents. Classroom management is taking on new meaning for parents now too! In a time when flexibility is hugely important, it's nice to be able to try different pages and find a system that works for each person or family. When you think of planners, it's natural to think of calendar pages. But for busy families, especially now with many kids schooling from home, pages that help with more than just a schedule can be beneficial. Especially useful are pages that can be inserted, customized, moved, used, and removed as needed. New to Natalie Rebecca Design is a perfect sampler kit of pages so you can see which pages fit your and your family's needs the best. This Sampler Set contains the following pages:
Menu Planner with Grocery List on the back to keep on top of weekly meals
This Week pages with To Do list on the back to keep on top of weekly tasks
Notes and Ideas pages to keep on top of planning, notetaking, lists, and more.
Dots pages to keep on top of musings, teacher conferences, scheduling, and more.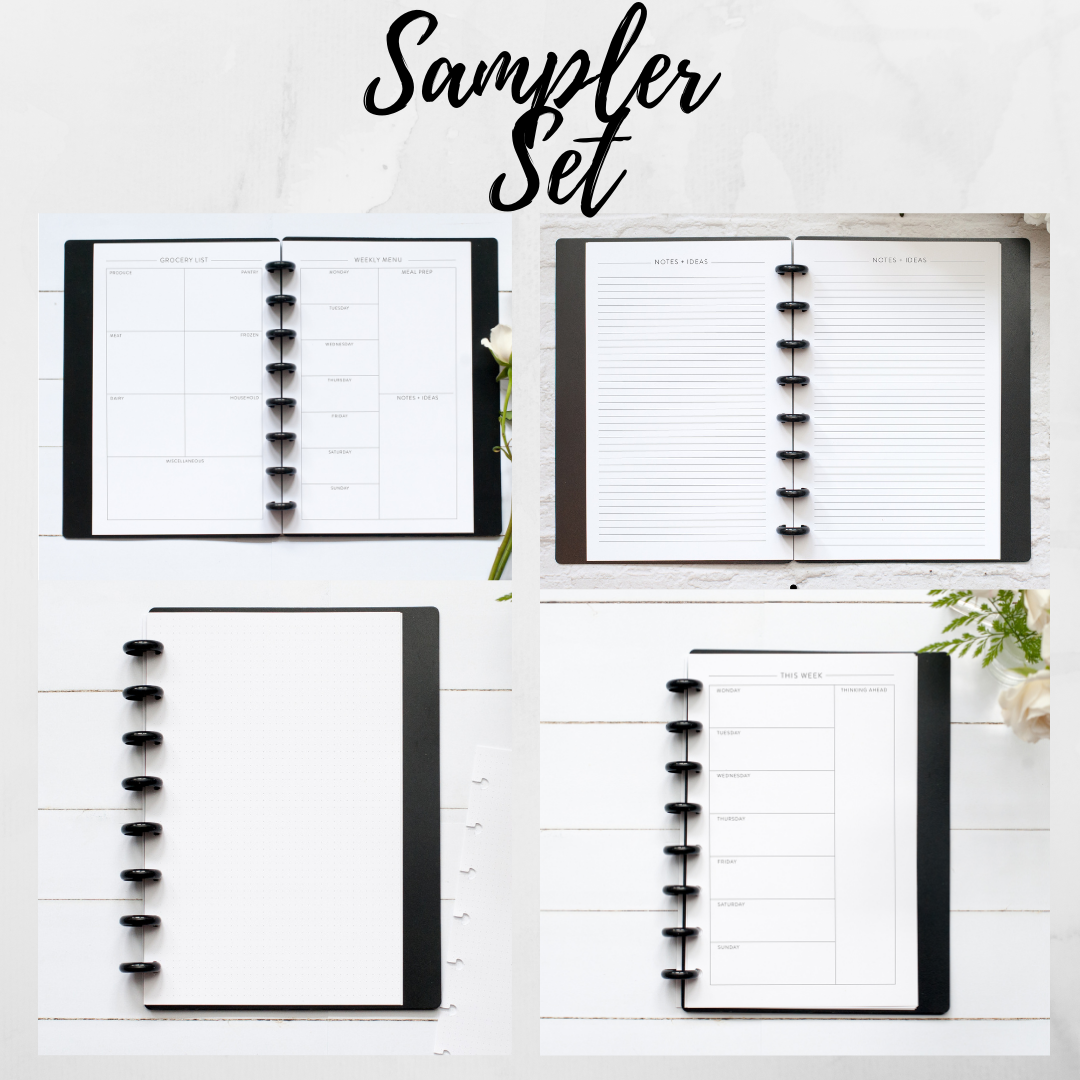 TEACHERS
Classroom management is taking on a new meaning this fall. For teachers who are balancing in-class learning with new rules and regulations, or teaching fully online, or maybe working through a hybrid of both systems, staying organized is now more important than ever. We have a kit of Teacher Planner pages that can help do just that. This kit contains Monthly Calendars and Weekly Lesson Planning Pages and your choice of the following pages:
Student Rosters
Assignment Trackers
Contact Information Sheets
Communication Logs
Password Trackers
Simple Dots
The Weekly Lesson Plan Pages are FREE to download right now! These would be an excellent resource for homeschool families, as well, to print and punch for a 3-ring binder.
STUDENTS
Back to school isn't just different for teachers. Students—especially those in high school or college—may also be finding it challenging to keep on top of their education in a situation where they aren't traveling from class to class, getting instruction and turning in assignments in the traditional way. Managing their task and a possible hybrid schedule will take purposefulness. An Hourly Calendar for class schedules or Assignment Tracker for work that is due might be just what a student needs to keep on top of his or her work.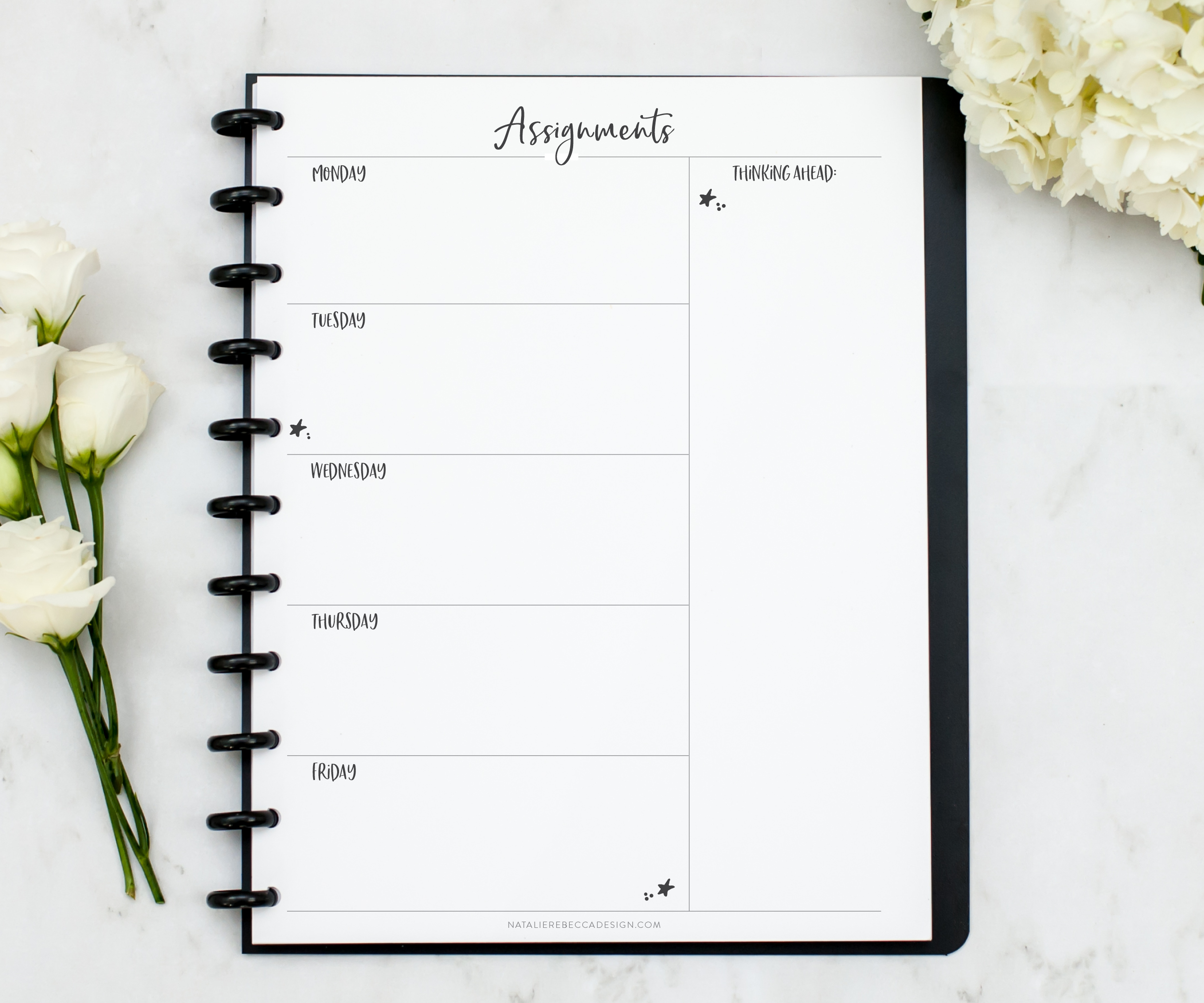 As mentioned before, no matter what role you find yourself in this fall, the beauty of the BetterNote system is that you can organize the inserts and pages in the way that best suits your needs and style. You can have a Monthly Calendar page, followed by weekly Menu pages and a To Do list. You can have a Weekly Lesson Plan, followed by a Contact Log and This Week sheet. You can have all your at-work materials together in one section and all your at-home materials in another. The possibilities are personal and versatile.
If 2020 has taught us anything, it's that flexibility, intentionality, and inventiveness are the keys to curing the chaos.