Let's talk about dividers...because nothing helps keep the ins and outs of your planner organized like a sturdy set of dividers!
MONTHLY DIVIDERS
Our monthly dividers (set of twelve) come in 11-disc, 9-disc, 8-disc, and A5 (ring) sizes. In addition to picking your size, you can pick from any of our four font styles. The Classic style is perfect for the minimalist who likes clean lines without any fuss. Our playful Whimsy line is well-suited for the dreamer who wants to make ordinary tasks a bit more fun! The Creative style has hand-drawn designs and is perfect for people who love to doodle or add color to their pages. Our Modern line is professional with just the right amount of flair and flourish thrown in. You can choose the same divider style as your inserts or mix and match in any way you see fit! If you like a more funky, fun style that adds pizzazz to your planner, you might just fall in love with our Black and White monthly dividers. These come as a set of twelve in our 11-disc or 8-disc sizes. The tabs of these dividers have the months printed on them, like our other monthly dividers, but the fronts have a variety of black and white designs on them.
If you like to organize your planner by month, then any of these monthly dividers would be the perfect fit for you! What inserts suit your needs each month? Do you need a monthly calendar to keep track of your appointments and sports practices, followed by one meal planner for each week, a few cleaning plan pages, and one monthly running to-do list? Add in those sheets behind each of your monthly dividers. But remember. Our monthly dividers aren't just about calendars. Perhaps you need monthly dividers to help you with other goals. Are you trying to tackle debt or want to keep track of expenditures for the month, as well as look ahead to birthdays, goals, or important reminders for the following month? Your monthly divider can be followed by a debt snowball sheet and an expense tracker, as well as a looking ahead page. Whatever your needs or goals are, dividers can help you tailor your months into more manageable chunks.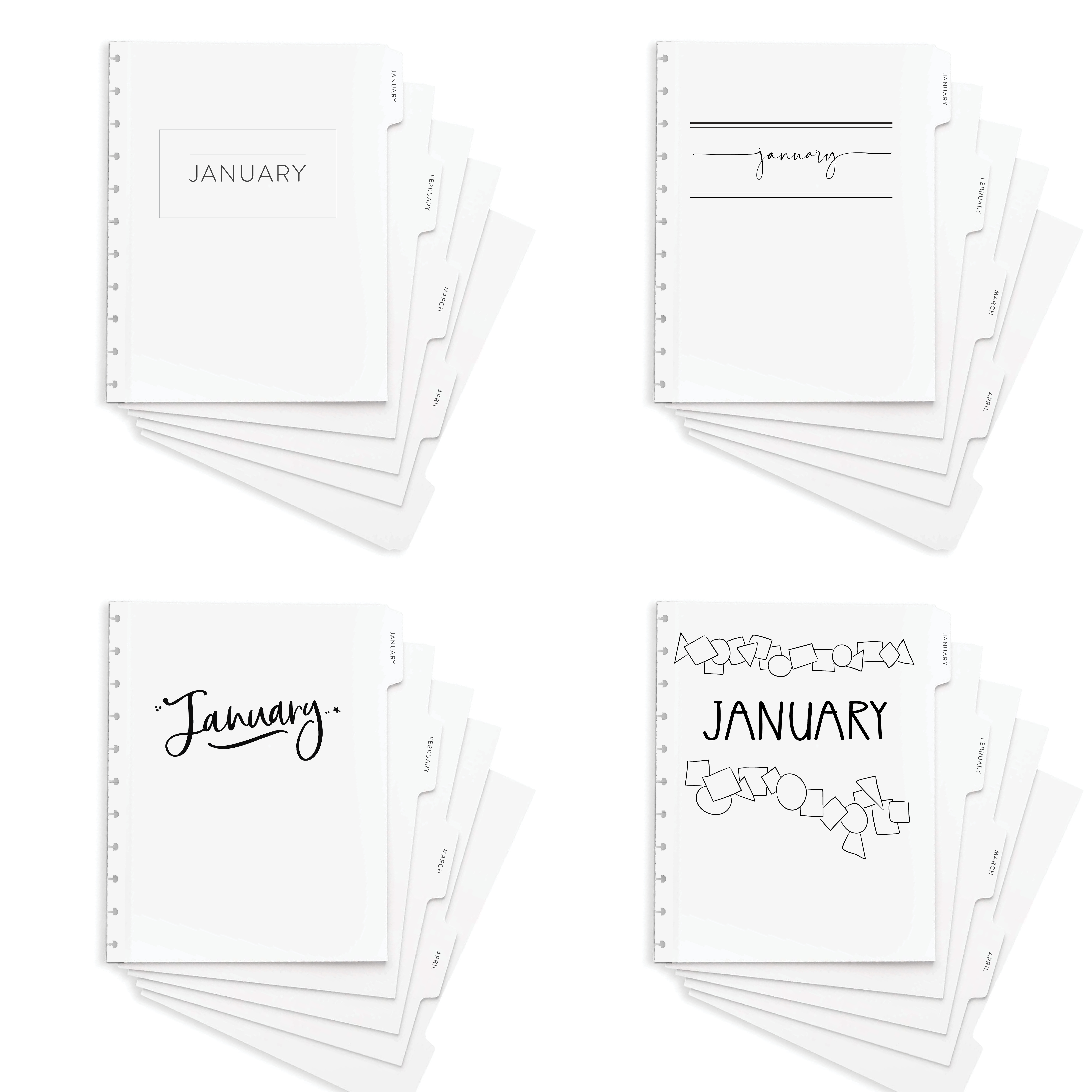 BLANK DIVIDERS
As with our monthly dividers, our Blank Dividers come in a variety of sizes. They're offered as a set of ten in our 11-disc, 8-disc, and A5 (ring) sizes, and a set of twelve in our 9-disc size. Unlike the monthly dividers, the tabs of these dividers are blank, allowing you to write on them and customize them for your needs. What type of categories do you need in your planner to better keep your life organized? As a professional, you may want a section for Appointments, one for To Do's, and others for Finances, Contacts, Passwords, and Ordering. At home, your dividers might be set up as Calendar, Cleaning, Meals, To Do, My Week, and Finances. Label your tabs anyway you want—and because the tabs are Mylar coated, they can be erased, so they can grow and change with you. (Sharpie markers can be easily erased with a dab of rubbing alcohol and Expo Vis-A-Vis markers wipe off with just water. Or, if you like a more professional look, use a label maker to customize your tabs!)
DURABILITY and SUSTAINABILITY
Our dividers are meant to last! They're made out of sturdy card stock and, as previously mentioned, the tabbed portions are Mylar coated, ensuring they'll stand up to years of use. You can flip them, rearrange them, put them in, and take them out. In addition, the monthly dividers have no years printed on them, so they can be used over and over again. As with everything we sell, our dividers are custom-made on site to ensure the absolute best quality product.
AN ALTERNATE CHOICE
Like other sheet protectors, our plastic pouches are slightly larger than the other insert pages. Because of this they can stand out to help divide the main sections in your planner if you don't want traditional dividers. If you do use traditional dividers, you can use the pouches to separate your normal monthly or category sections into subcategories. Add in a monthly divider, then that month's weekly planner pages. After that, create your own page with a category on it, such as To Do, Monthly Expenses, Medication List, or Menu. Slide that page into a plastic pouch and insert it in front of those specific inserts. This will allow you to easily flip through to the specific pages you use each month. And when that month ends, simply move the pouches to the next month and repeat the process!!
---
ONE SET IN...ONE SET OUT

Want a handy tip to reduce the bulk of your planner? Only keep 4-6 months in it at a time. As one month comes to close, pull out those pages, store your monthly divider in a safe place for next year, and pop in a future month's dividers and inserts.