If you've watched the video of how Natalie Rebecca Design got its start, you know that the idea behind the company began because of a simple scheduling mishap. But unless you've been a customer for a long time, you may not know just how we got to where we are today. February 2021 marks our five year anniversary! It's hard to believe how much has happened in that short amount of time.
In February 2016, after realizing I *might* need a little help getting my life situated, I started poking around on Pinterest and stumbled upon a type of disc planner that people had decorated with stickers and set up in a personal way. A quick search on Amazon produced several options of this "Happy Planner" system, and I popped one into my cart for purchase. Intrigued by the product, I took a trip to a local Michael's store and discovered that you could actually get your own punch to turn any sheet into an insert! I bought one on the spot.
At that time I was working as a teacher and had often made handouts for my job that I would share on Teachers Pay Teachers (TPT). Using that basic experience, I started playing around with fonts I had purchased from TPT and created a To Do List page—something that seemed useful and visually appealing to me. I printed it, cut it, and punched it, all before my planner even arrived! My Amazon package showed up, but I was not prepared for just how much I would love my new Happy Planner. Because it was "disc-bound," it could lay flat and fold back on itself (like a spiral notebook) AND pages could be added to it (like a binder notebook). It was the best of both worlds! I also loved how the planner combined my need for organization and structure with my love of creativity and visual expression.
I had joined a Facebook Group (when they were in their early infancy) with others who used the 9-disc system, and I shared my To Do List with them. Several members asked if they could get a copy of the page to use for themselves and suggested I create an Etsy listing for an instant download. That was the birth of the very first Natalie Rebecca Design product! A simple $2 instant download of my To Do List insert. It felt encouraging to see my insert sell on Etsy. I felt like I was helping other people. I need these things...maybe others do too….
What follows next is probably best described as a whirlwind train ride—on a train I didn't even mean to board! After searching for inserts for my planner and not finding anything that I loved, I decided to make a few lists, forms, and templates that were both pretty and customized for my life. Customers also sent ideas and feedback on my products, which led to more dabbling around and experimenting with different designs and ideas. Time was limited as I juggled my teaching job and time at home with my family, but I found enjoyment in this new hobby. The train was slowly pulling out of the station.
After about a month of selling a couple different instant downloads, I started to get requests from people who didn't have their own printer and/or punch, asking me if I could print, punch, and ship the inserts for them. Sure! That sounded like fun! So I started coming home after work, checking what orders had come in, filling them, and shipping them. It was just a handful of inserts here and there, but the train was definitely gaining momentum. I just couldn't feel it yet.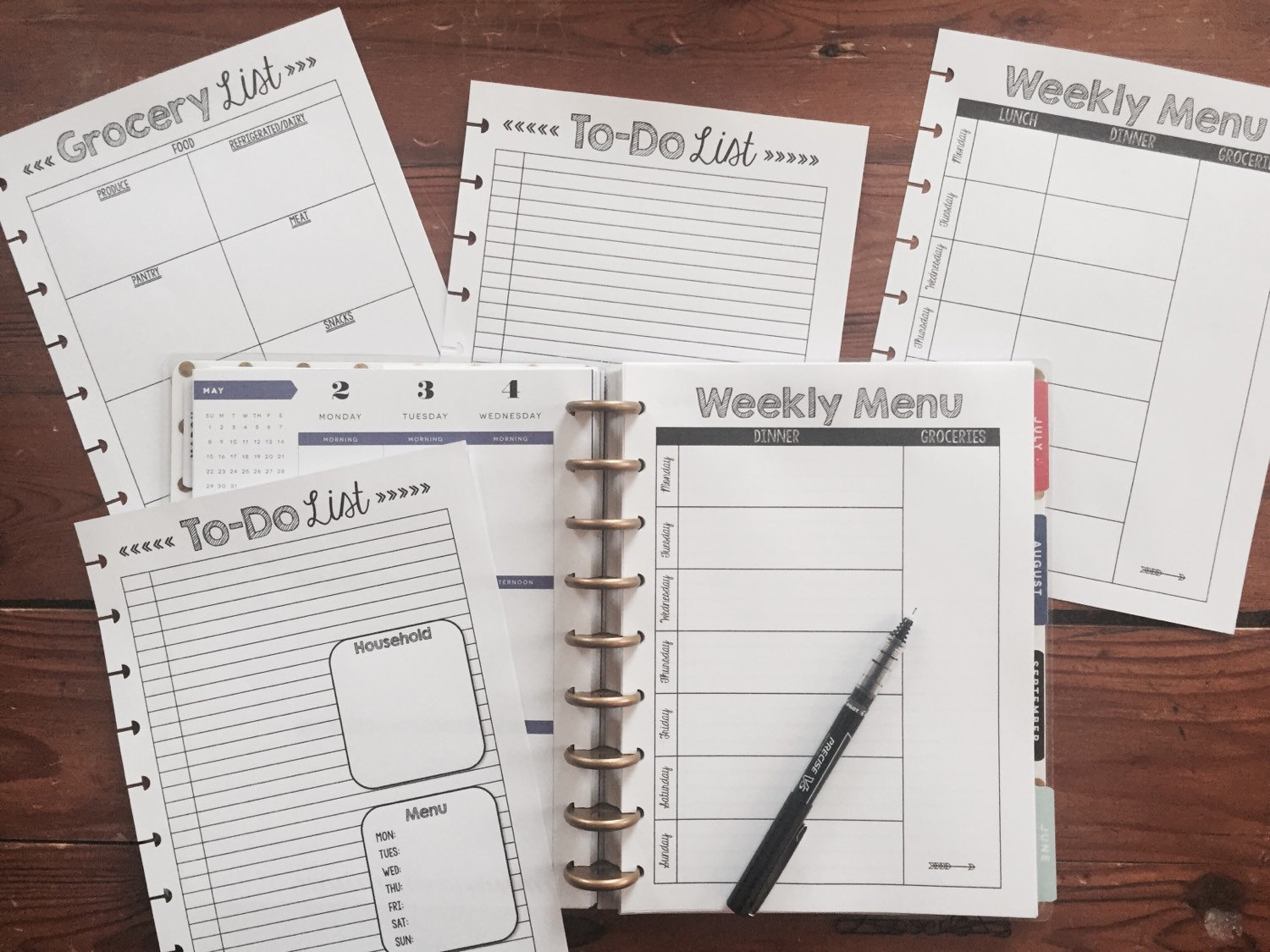 As summer 2016 approached, I saw that Amazon had a "handmade" section for their business and decided to list my products there—Finance Plan, Meal Plan, To Do List, and a few more. I was honestly shocked at how quickly orders started coming in! I hired my first employee to help me ship out orders and respond to customer questions (how did this even happen?!?). I even enlisted the help of family and friends for "punching parties" when we had a deadline of calendars to get out. We'd spend a few hours punching (with my small store-bought punch that could only handle three pages at a time) and bagging sets to get ready for inventory. Despite no intention of ever becoming an entrepreneur, business woman, or boss, by November of 2016 both my husband and I were able to quit our jobs and focus on the business full time.
We were moving full steam ahead and just hanging on for dear life! The business had already moved out of my dining room and into rented space in my neighbor's basement. I leased equipment and hired on a few more employees to help with production. I added styles and sizes to my products and tried to streamline the process as much as possible. Still, the first two years of the business were mainly just navigating and keeping up with demand. What's selling? Print more. What needs to be replenished? Send more. What suggestions do people have for additional pages? Create more. I was constantly reacting to the needs of the process.
Despite the craziness of those early years, my underlying vision and desire remained the same. The people I continued to add to the business were friends—women I enjoyed being around and whose strengths and abilities all complimented each other and helped fill in any gaps in my own personality and abilities (I'm the one who originally needed to get the details of my life situated, afterall!) The vision for helping others and coming alongside people to bring them joy and make their lives just a little better continued to be a driving force behind the business. I wanted them to feel the grace and care behind my products! Likewise, I wanted to be sure that the company work environment was one that lent itself to the busy lives of working moms. By 2018 we had moved into a larger space—a local house repurposed for the business. We created flexibility in the workspace for kids to be there as needed. A place to craft, or to learn the lessons of hard work, or to watch cool machines work—and of course these days, a place to attend virtual school while still getting the help they need.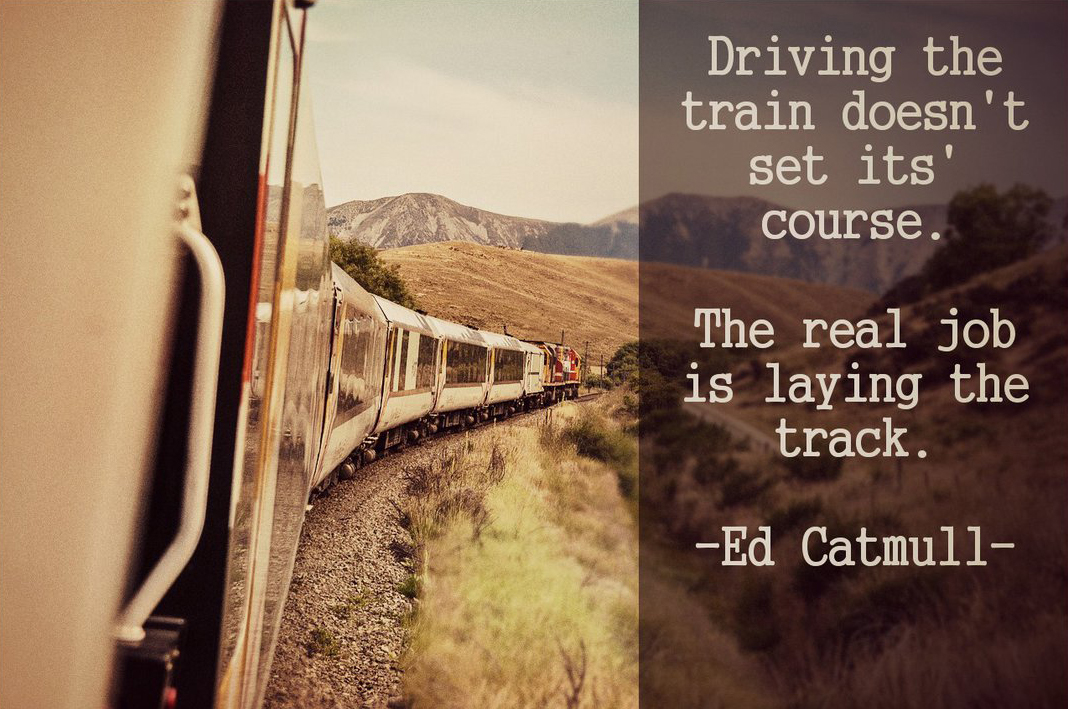 Heading into the third year I was able to begin enjoying the ride—feeling the wind in my hair and watching the landscape pass by the windows, so to speak. This was a time of reflection and growth, an untangling of all the components to better envision and proactively plan for our products. While I initially viewed the company as creating inserts for planners people already had, I started to see its potential to create stand-alone products that people could use year after year—a planner with all the necessary tools that was customizable to whatever people needed. We slowly added the equipment and infrastructure to make dividers, covers, and plastic pouches, still using high quality materials that were all sourced and made in the USA.
But there's always more growth to be had! As we've weathered the storm of a challenging year, we're looking forward to what the next five years of the company have for us, with visions of other new products and styles in the pipeline. Still, we can't help but look back at all that has transpired. We've grown from a single To Do List in a single style, to over 300 products in four different styles and five sizes. We've gone from hand punching three pages at a time, to having three punching machines. From a hand paper cutter to an automated machine. From a solidary dining room table to the entire first-floor of a house. From one person to a small team of employees. From a hobby to a business.
And of course we have YOU to thank for that! Thank you for your business and for your interest in our products. Over the years many of the designs and content have come from people just like you who shared what you needed and asked if we could make it. It's been such a blessing to see orders come in from repeat customers who have chosen Natalie Rebecca Design year after year, who are drawn to the quality of the products we produce and the friendly service we provide.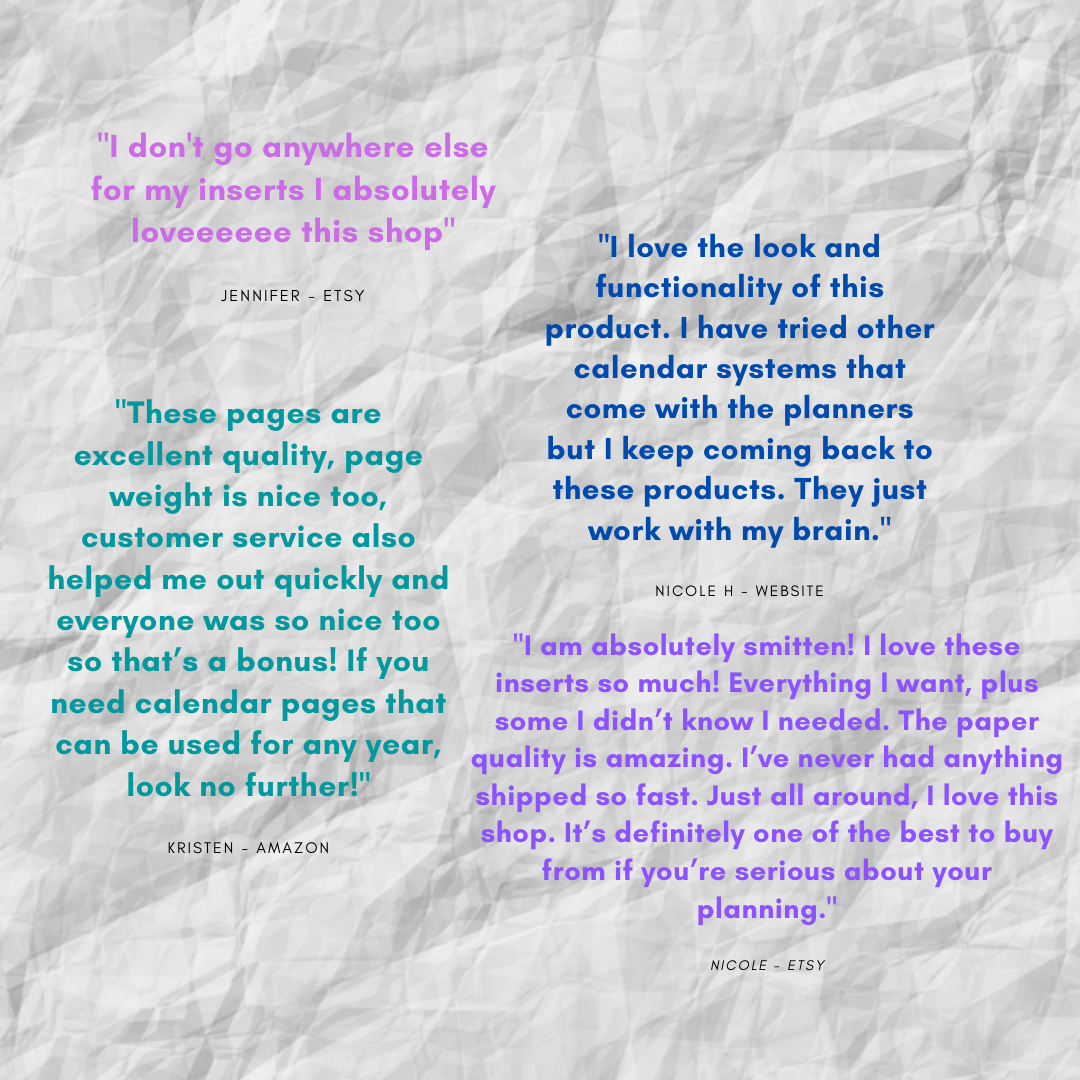 I love delighting customers and bringing them joy, whether it be from sharing a small free gift with them, or knowing that I've helped in some small way to meet a need they have. I hope Natalie Rebecca Design's passion for quality products and heartfelt customer service remains evident in all we do for years to come.
---
Want your OWN copy of some of the retired designs mentioned here? Visit our free downloads page!