As we did last month, this month we are continuing to highlight some of our inserts that are intentionally customizable and flexible in nature - ones that can be added to your disc planner to simplify almost any need!
---
This month we're taking a look at the This Week inserts.
---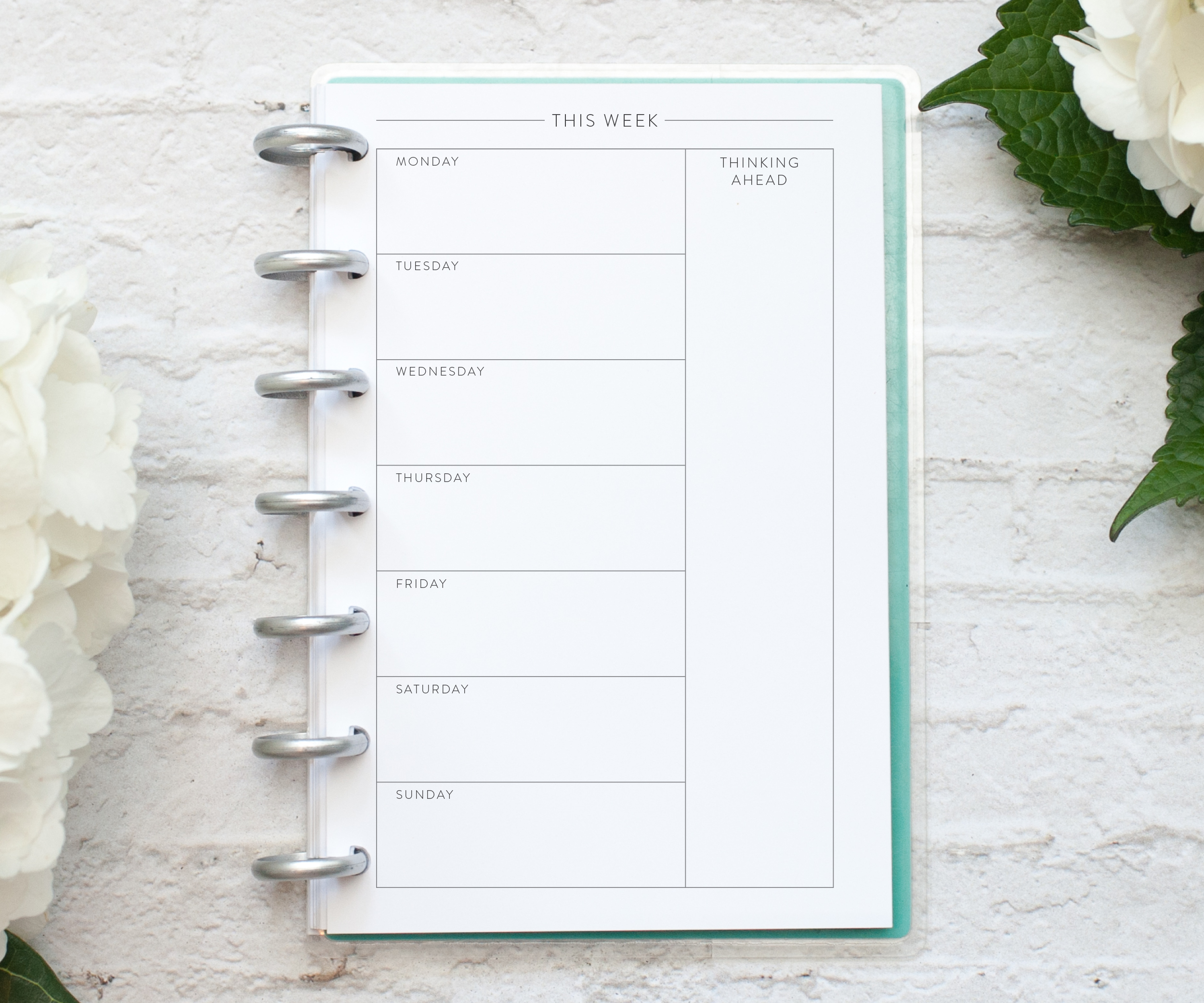 Do you ever feel that your life is a bit like an incredible circus act? How are you doing walking that tightrope? Don't fall! How's your plate spinning act going? Don't let anything break! This Week inserts - perhaps the most versatile and practical inserts we sell - might be just the special tool you need to set yourself up for success.
This Week inserts can help you plan out your week, or keep track of your week, or simply reflect on your week. The front side has a block of space for each day. On the back are some lines for notes and ideas, a section for goals, and a place to jot down those things you don't want to forget. Below are just a few of the ways that This Week inserts can become a regular part of balancing your weekly routine.
Weekly Planner
To do lists are a great way to remind yourself to get tasks done, but perhaps you need something a little more organized. (Don't we all?!?) What calls do you need to make on Monday? What errands need to happen on Thursday? Need to send a birthday card to your mom and mail it on Friday? Writing these items down each day can reduce stress because you're not trying to remember all the to-do's floating around in your mind. It can also help to better organize your week to accomplish all the things - both big and small.
This Week inserts aren't limited to just your home life. Time spent at work often fills up much of our days. Want an easier way to remember your meetings? Need to itemize project tasks or list out time you spend working for different clients? Would it be helpful to write down the specific steps you need to take each day to submit a proposal by Friday? In one simple sheet you can visually see the work week ahead.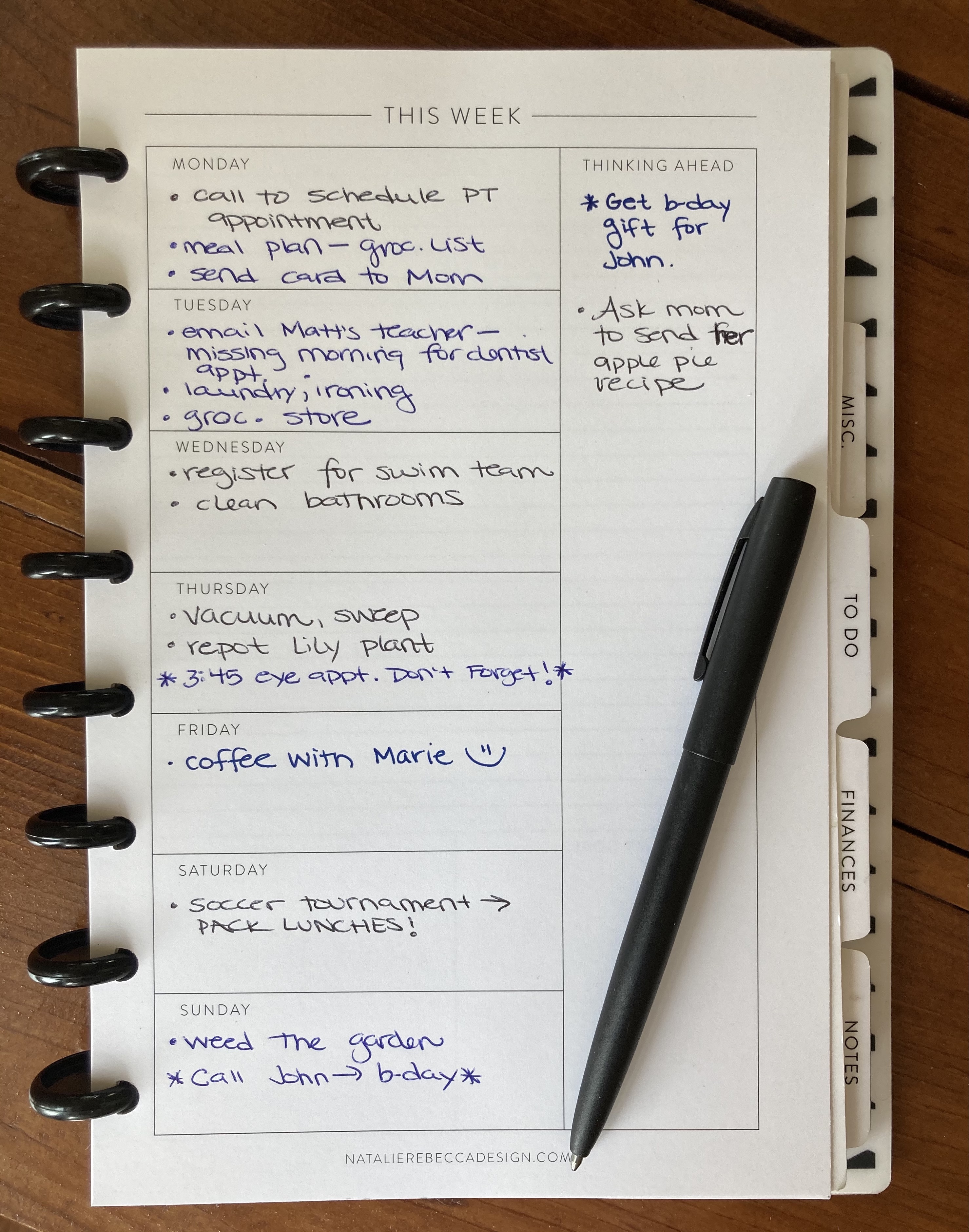 Extracurriculars
Many of us are emerging from a year of lockdown, and it's a little challenging to wrap our minds back around the routine of "who-goes-where-when?!?" (Talk about a circus act…) This Week inserts provide a week-at-a-glance view that is super helpful to keep tabs on the sports, extra curriculars, and hobbies. Use the spaces to help visualize and plan for the events you need to orchestrate each week. This helps alleviate the stress of last-minute planning, time conflicts, organizing rides, and more.
Health Tracker
We mentioned before that Keeping Track page can be helpful to track specific health needs, but This Week pages can help with this too, in a different layout that might be more user-friendly for you. Pop a This Week page into your planner to keep a log of health and fitness items you'd like to track. You can use this basic insert to write down the meals or snacks you eat each day. If you're counting macros or calories, the boxes have plenty of space to track that as well. Perhaps you'd like to plan out your exercise goals or jot down a reminder of workouts you completed. If you're tracking weight loss, you can add that information at the end of each week. Whatever your health and fitness needs and goals are, research has shown that writing things down leads to more success in accomplishing them.
Cleaning/Chore Chart
We covered this one last time as well, but it bears repeating - trying to keep on top of household chores can feel about as hard as getting a huge elephant to balance on top of a tiny ball. Doing a few small chores each day, or a larger one once a week, helps the main upkeep of a house stay at a manageable level. What are one or two jobs you'd like to do on Monday? Clean the downstairs bathroom and meal plan? What about Tuesday? Perhaps that's the day you want to vacuum the house. Writing down a few household chores to tackle each day means you aren't faced with a full house cleaning every weekend.
And remember - these pages aren't just for adults. Kids can help around the house too! You could use one This Week sheet but write in different colors to indicate each member of your family and the task they're in charge of each day or every-other-day. As the old saying goes, many hands make light work!
School and More
Speaking of kids, This Week inserts are a great way to help kids and teens see what they need to take care of each week. This is a perfect place for students to write down their school assignments or homework. The pages are a more informal way for them to plan out their week, adding in test dates to remember, club meetings, sports practices, or tasks and chores they're in charge of. Remembering to make a quick call to wish Grandma or Grandpa a happy birthday is the perfect thing to jot down as well! Teaching kids how to prioritize and plan is a gift they'll appreciate for years to come.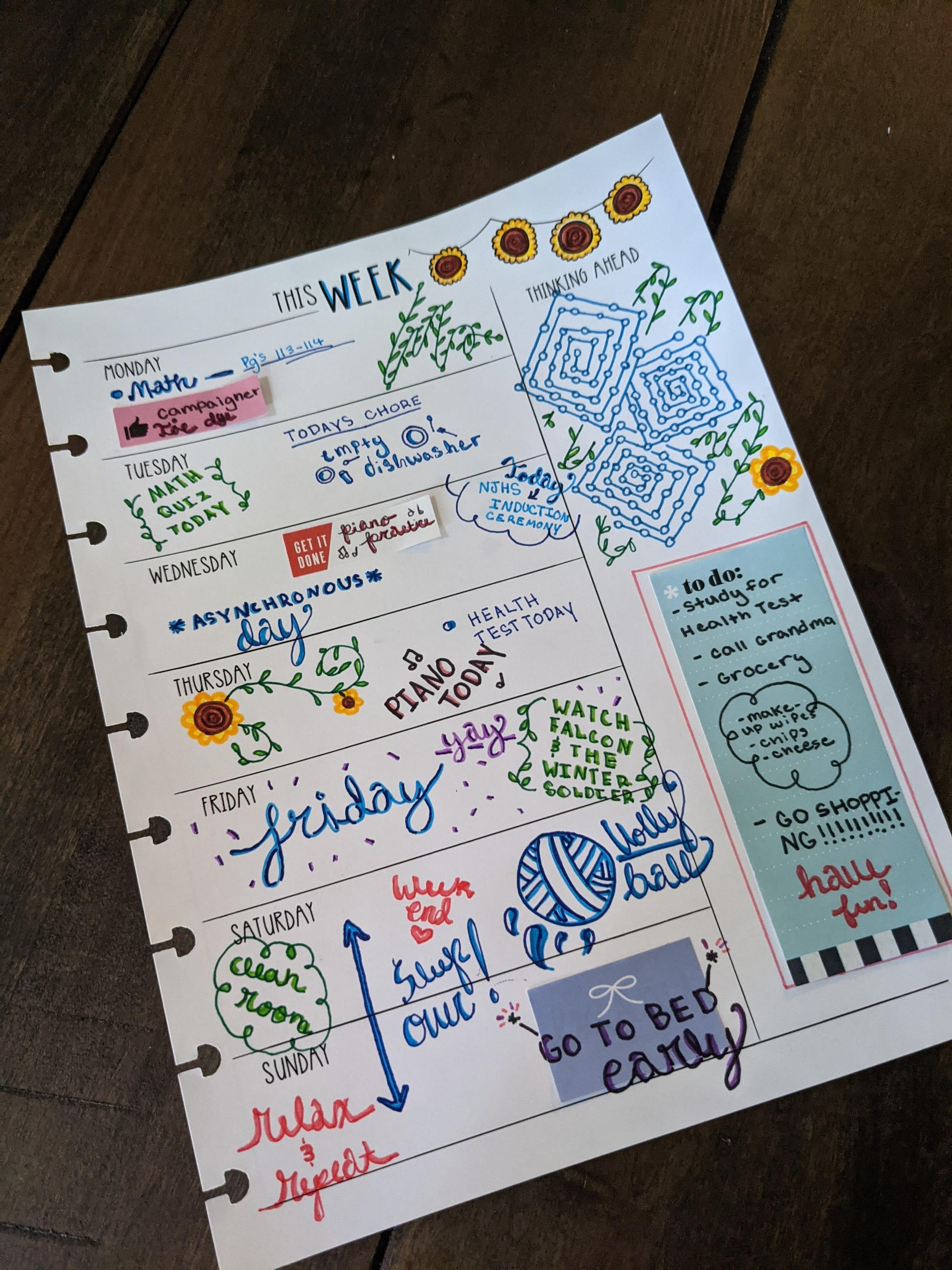 Newborns
You've got a new baby! It's simply the sweetest of times...but it can also be completely overwhelming. You're supposed to keep track of meds, feedings, wet diapers, dirty diapers, appointments, and more! A This Week insert is a great solution for this phase of life. It provides an easy way to track all those essential details, especially when you're sleep deprived and adapting to new and different routines.
Meal Planning
Though we sell inserts specifically for meal planning that include sections for grocery lists and meal prep/recipe notes, you may find that a This Week insert fits the bill better for you, especially if you rely on a shopping list app for your grocery trips. Plan out your meals for the week, including any sides or extras. You can use the bottoms of the boxes or the "Thinking Ahead" column to make note of practices, work meetings, or appointments that might occur around the dinner hour so you can plan meals accordingly, such as crockpot dishes, meals to-go, quick-fix salads, etc. (If you'd like more information and tips on meal planning, be sure to check out our "Meal Planning 101" blog!)
Reflections, Devotions, and Prayer
Are you someone who regularly spends time journaling, reflecting, having devotions, or praying? This Week inserts are a helpful way to track daily mindfulness. Perhaps you want to write down what you're learning from an experience you're going through. Perhaps you want to remember to pray for specific people each day of the week. Or perhaps you want to write down one inspirational quote or Bible verse each day to help reflect and respond in a purposeful way. This Week pages are a helpful companion to tracking important things that can sometimes feel less tangible than other everyday necessities.