It's back to school time, so the notion of "notebooks" is likely present in many of our minds right now. What type of feeling does a crisp clean spiral notebook evoke in you? Do you buy composition notebooks by the dozen for your kids? Are all the notebooks you're trying to buy out of stock in all the stores you're searching through?!?
At Natalie Rebecca Design we sell notebooks too, but in a different form! You may not even realize it, but our shop sells four different notebook sets in both our letter and half letter sizes. They're nicely bundled collections with unique divider options and practical inserts to help with a variety of life's necessities, all at a price that's friendly on your wallet.
We thought we'd take some time to tell you a little bit about them.
HOME
Keeping on top of the household can feel overwhelming. This is where our Home Collection comes in! This collection comes with a cover design of your choice. You'll also get a set of five dividers labeled Calendar, Finances, Notes, Meal, and Home. With this set you'll receive a dated or undated monthly calendar, as well as pages from our Finance Plan, Meal Plan, and Cleaning Plan inserts. The calendar and inserts come in our crisp, classic font.
WORK
The Work Collection also comes with a cover of your choice, as well as five dividers. These dividers are labeled Calendar, My Week, To Do, Misc., and Notes. With this set you'll receive a dated or undated monthly calendar, a set of This Week pages, and a set of To Do lists, all in the classic font. Despite its name, this collection can be equally as helpful at home as it is at work.
FINANCE
For many of us, finances are a struggle. Are you working to get out of debt? Do you need a better way to track your bills? The Finance Collection can help! Once again, this collection comes with a cover of your choice. The dividers in this set are labeled Accounts, Bills, Budget, Expenses, and Notes. With this set you'll receive our complete Finance Plan, To Do lists, and Simple Dots pages, all in the classic font.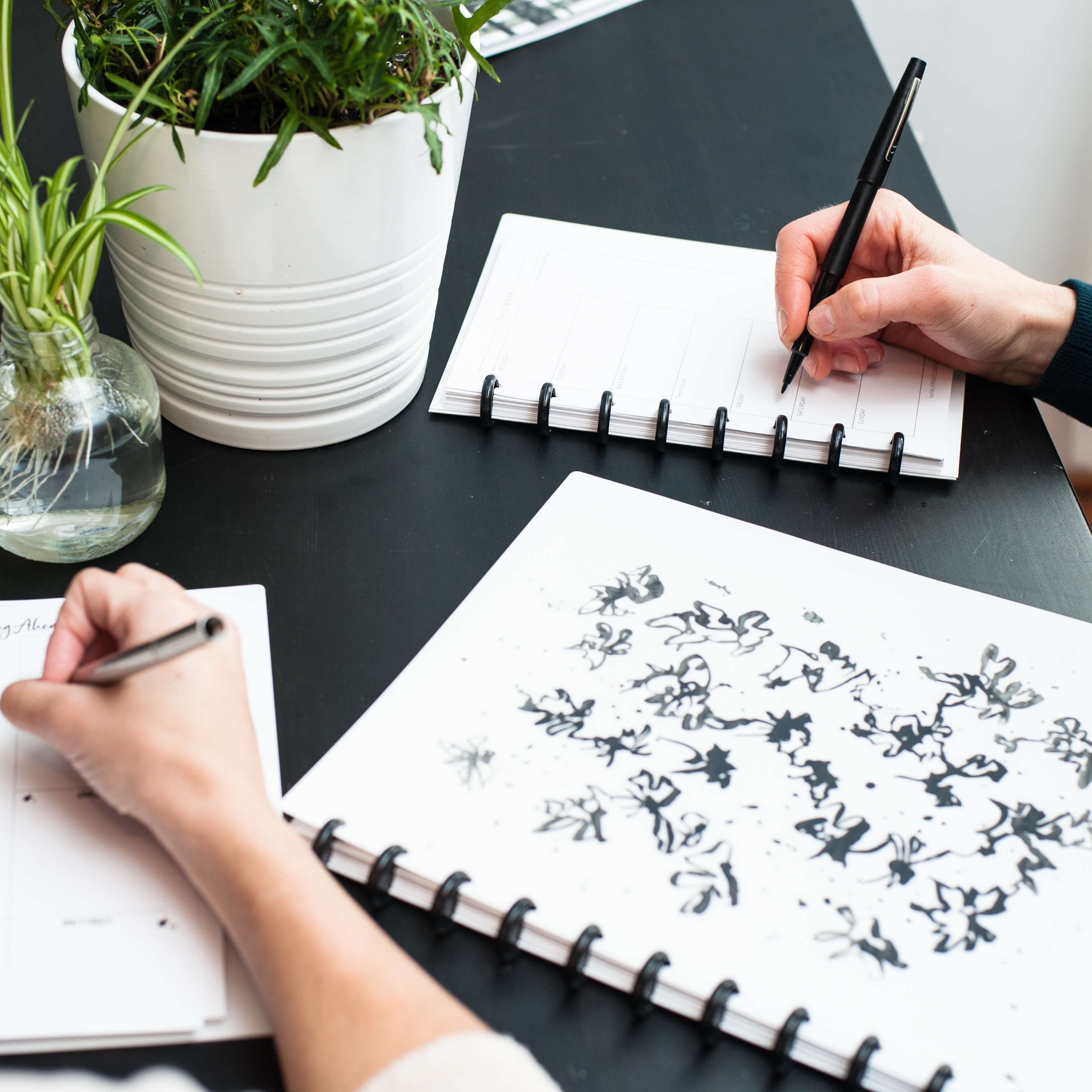 CUSTOM
Not feeling any of the above sets? Create your own! With a Custom Notebook you choose both your cover and your style of dividers (monthly or blank). In addition, you can choose two full sets of inserts. If you like to organize your planner by month, you can select monthly dividers, grab a monthly calendar as one of your inserts, plus another set of inserts of your choosing—perhaps Keeping Track pages or Meal Plans. Pop in one month from the calendar plus four weekly meal plan sheets in each of your monthly divided sections and you're set to simplify at least one aspect of your crazy schedule! If you use a calendar app or don't need a paper calendar, you can select blank dividers, which come in the same designs as the dividers in the other sets but can be labeled as you see fit, and two sets of inserts. Maybe having a Password Tracker and some Notes sheets would allow you to keep important information all in one place. An added bonus? You can pick the font style you want for the inserts you choose in your Custom Notebook.
We think the notebook sets highlight the versatility and flexibility of our BetterNote system at a value you can't pass up! And as always, you can add additional inserts from our shop to any of our collections to create a system that is as personal and unique as you.