It's that time of year again. The dog days of summer are coming to a close. Labor Day is on the horizon. Back to school shopping has commenced. Even if you are a working professional without kids, there's a sense of transition during this time.
No matter what walk of life you find yourself in right now, we have a variety of products that can help you refresh and simplify your routine as one season changes into the next.
---
TEACHERS
It makes sense to start off with our teachers. Many of us here at Natalie Rebecca Design are current or retired teachers! It's a job that is both rewarding and challenging, tireless and timeless. No matter what age or stage you teach, we hope our products can make your day-to-day grind just a little bit easier.
Our Teacher Planner comes in our 11-disc planner size and contains a selection of helpful pages for teaching. Each planner comes with an Undated Monthly Calendar and Undated Weekly Lesson Planning Pages. These would be an excellent resource for homeschool families to print and punch for a 3-ring binder as well.) In addition to the calendar and lesson plans, the Teacher Planner includes any TWO of the following pages:
Student Rosters/Gradebook – These pages allow you to keep tabs on student attendance, assignments, grades, or any other records you may possibly need.
Assignment Trackers – These inserts can help you plan out your week and keep track of assignments you are collecting to grade or ones you are planning to assign for homework. They can also be useful to track small group meetings with students, running reading records, and other weekly tasks.
Contact Information Sheets – Having these pages is an easy way to keep information for a variety of contacts (parents, school representatives, other faculty and staff, etc.) all in one place.
Communication Logs – These sheets are a convenient spot for contact information, notes about a conversation, and any follow-up plans you discuss.
Password Trackers – This set of inserts is the perfect place to keep a record of passwords or other sensitive information so you're never left searching for where you wrote something down or regularly left having to reset your information.
Simple Dots – These versatile pages can be used to sketch out a seating chart, make a list of ideas from a staff workshop, take notes during conferences or student presentations, brainstorm to help plan out a lesson, and more!
If you need more than two of the above inserts, you can add up to two more at a reduced cost! (Want even more information about the Teacher Planner? Check out our previous blog HERE.)
Many of the items we've covered here are available to teachers in other forms, but what sets the BetterNote system apart is its unique, flexible nature. Instead of managing a variety of different books to track the many different responsibilities teachers have, just one planner can be organized and personalized to exactly what you need. You can have the pages you use most, organized in the way that makes sense to you and your job.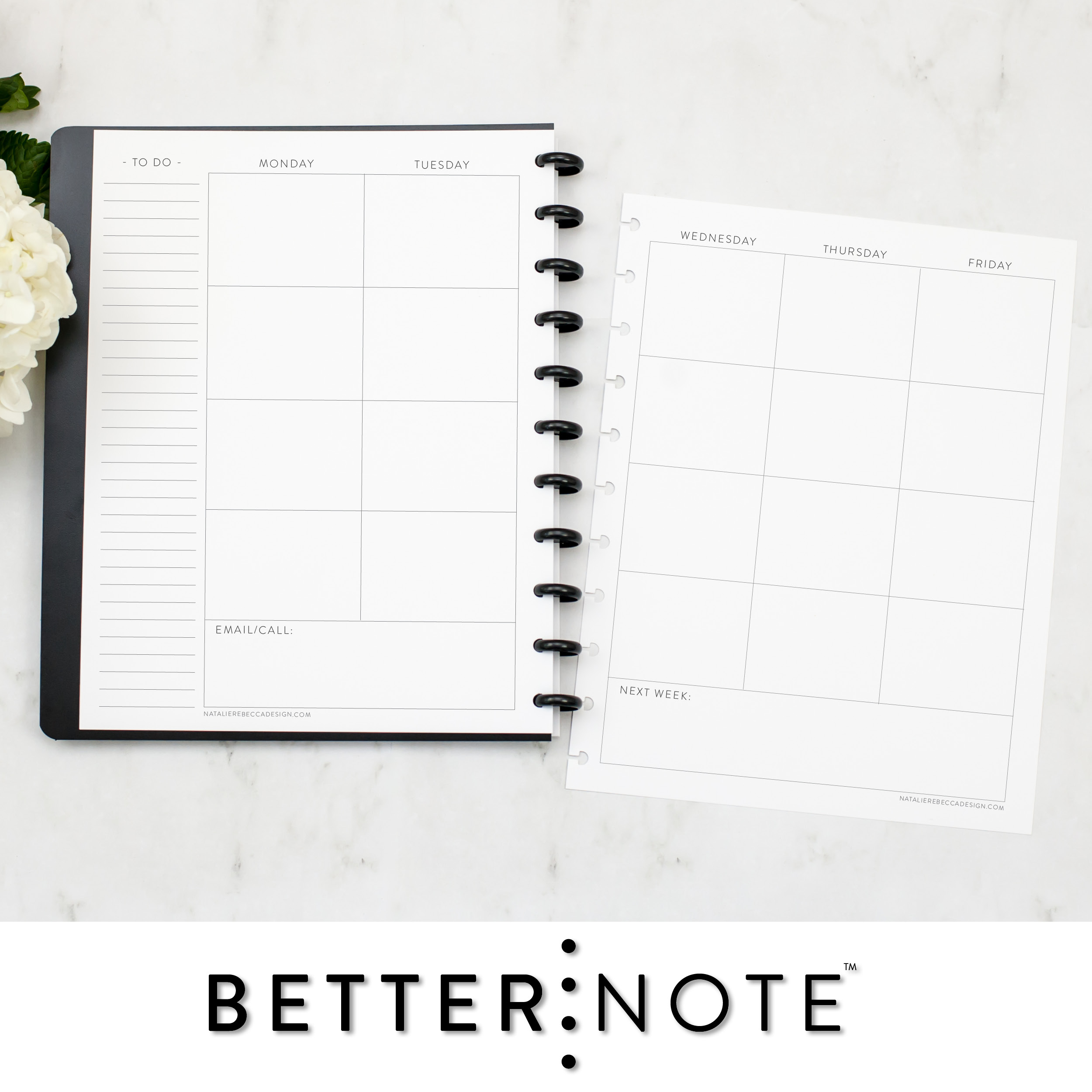 STUDENTS
There's a lot of responsibility, planning, and juggling that goes into being a student. Many balance their class assignments with commitments to sports teams or clubs, responsibilities at home, schedules at work, and more. Despite the fact that much of student learning and scheduling today uses technology or online platforms, a paper planner can still play an important role. Below are a few inserts that students might find helpful.
Calendar – Our calendars come in five layout options (and either dated or undated) so students can select the version that best suits their schedule and needs. The most popular layout for students is the weekly horizontal calendar. This calendar has a monthly layout followed by a weekly layout with five large horizontal boxes for the weekdays, and a split box for the two weekend days.
Assignment Tracker – These inserts have a space for each of the five days of the week where students can keep track of their homework, tests and quizzes, and more.
This Week – Similar to Assignment Trackers, This Week inserts are a great way to help kids and teens see what they need to take care of each week. Because these sheets include spaces for Saturday and Sunday tasks, they can be a more informal way for students to plan out their week, rather than using a calendar. They can write down test dates to remember, meetings and practices, household chores they're in charge of, or their work schedule.
Expense Tracker – Though this insert might not jump to the forefront of your mind when thinking about students, the Expense Tracker is a handy sheet to track all sorts of monetary exchanges. If they are in charge of fundraising or treasury aspects of a club, this insert can be an invaluable tool. It can also track money they've lent to a friend or family member. However, despite its name, this insert can also be used as an Earnings Tracker. This is an excellent place for teens to log hours at a job, money earned from babysitting, time spent volunteering, etc.
PARENTS
Let's face it, life is busy! And it's about to get a whole lot busier. And for busy families, pages that help with more than just a schedule can be beneficial. Especially useful are pages that can be inserted, customized, moved, used, and removed as needed. While pretty much anything in our shop can help parents navigate the plethora of activities they need to juggle, a few stand out.
To Do Lists – There's nothing quite more tried and true than a classic to do list that can help you take the mental list of tasks off your mind and onto a piece of paper so you can rest assured you won't forget to tackle it.
This Week – To do lists are a great way to remind yourself to get tasks done, but perhaps you need something a little more organized. This Week pages can help you track events or to-do's that need to get done on certain days and organize your week to accomplish all the things – both big and small.
Menu Planner – Meal planning takes on new meaning when you have after school tutoring, nightly sports practices, weekend games, church events, and numerous other events that get ushered in each fall. By planning out your meals for the week you can reduce your stress, save money, and probably eat a little healthier! (Want more info on meal planning? Check out our earlier blog HERE.)
Sampler Set – If you're not sure just exactly what pages would be best, consider trying our Sampler Set! This set contains a combination of pages to help your household run smoothly. You get 10 Menu Planners with Grocery Lists on the back, 10 This Week pages with To Do lists on the back, 10 Notes and Ideas pages, and 5 Dots pages.
Home Collection – If you'd prefer a whole kit already put together, you might consider our Home Collection. This collection comes with a cover design of your choice. You'll also get a set of five dividers labeled Calendar, Finances, Notes, Meal, and Home. With this set you'll receive a dated or undated monthly calendar, as well as pages from our Finance Plan, Meal Plan, and Cleaning Plan inserts.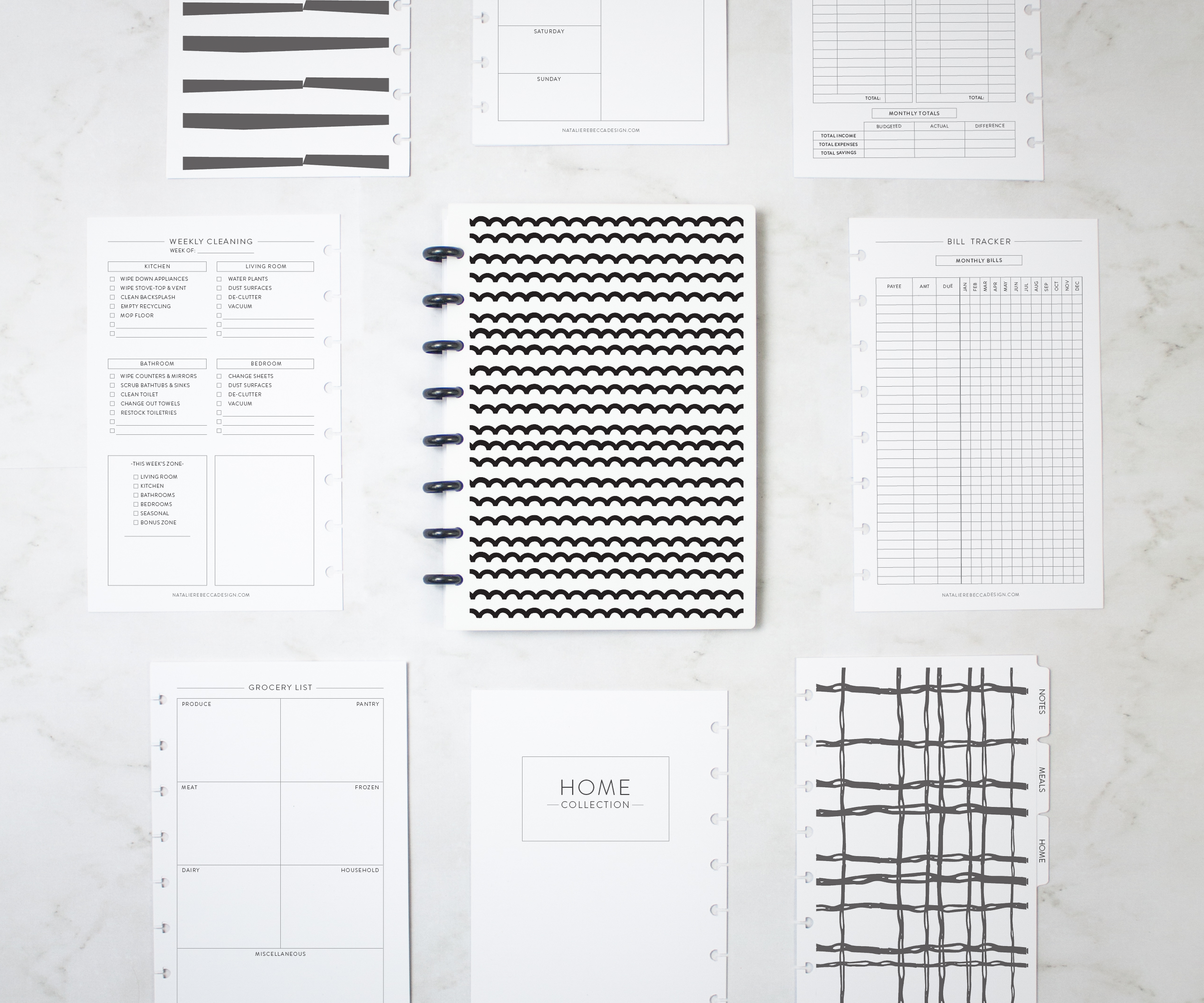 WORKING PROFESSIONALS
For working professionals, the fall can feel like the start of something new. Perhaps it's the noticeable change in weather, or the push to finish out the last quarter of the year, or the feel of holidays and traditions on the horizon. For these reasons, it might be the perfect time to freshen up your work habits and routines.
Calendar – As we've already mentioned, our calendars come in both dated and undated formats and in five different layouts. A layout that is helpful for many professionals is the hourly version. These calendars start on Sunday and have seven vertical columns with hourly increments listed in each column.
This Week – Man, these inserts just keep showing up on the top of each list! This Week inserts aren't limited to just your school or home life. Time spent at work often fills up much of our days. This Week pages can help remind you of your meetings, itemize project tasks, log time spent on different contracts, and more. In one simple sheet you can visually see the work week ahead.
Work Collection – We also have a kit put together for professionals. Like the Home Collection, the Work Collection comes with a cover of your choice, as well as five dividers. The dividers are labeled Calendar, My Week, To Do, Misc., and Notes. With this set you'll receive a dated or undated monthly calendar, a set of This Week pages, and a set of To Do lists. It's a great way to set yourself up for success at your job.
---
As mentioned before, no matter what role you find yourself in this fall, the beauty of the BetterNote system is that you can organize the inserts and pages in the way that best suits your needs and style. You can have a Monthly Calendar page, followed by a weekly Menu page and a To Do list. You can have a Weekly Lesson Plan, followed by a Contact Log and This Week sheet. You can have all your at-work materials together in one section and all your at-home materials in another. The possibilities are as personal as they are versatile.
Regardless of how you use it, a BetterNote planner can help you visualize and plan for the events you need to orchestrate each week, which helps alleviate the stress of last-minute planning, time conflicts, and chaos. That sounds like exactly what we all need this fall!