FUN FACT: Natalie Rebecca Design was started by a teacher, and most of its employees are current or former teachers as well! Like you other teachers out there, we all have stories of helping a student work through a math problem and have that "ah-ha" moment, or driving to work cramming in a listen to the audiobook of the chapter you assigned to your students the night before (never enough time in the day!), or searching up an entertaining YouTube video that grabs students' interest at the beginning of a new science unit. So, it probably goes without saying that WE LOVE TEACHERS! And we had you in mind when we created a variety of inserts tailored to teaching.
As the summer begins to wrap up and August brings with it the beginning of teacher workdays, back to school shopping, and earlier mornings, we wanted to take some time to highlight products that can help YOU, our teachers, step into the new year with a bang.
---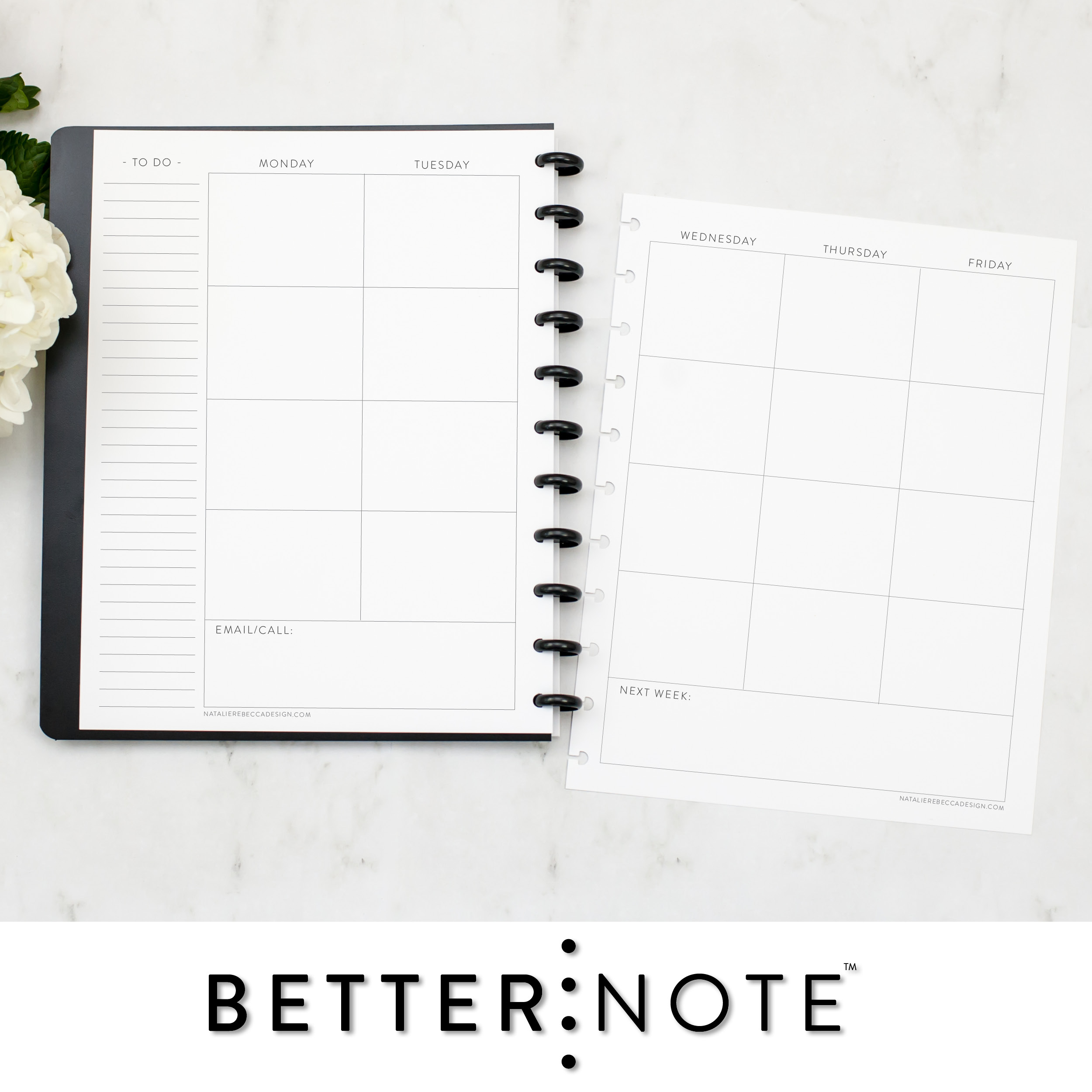 TEACHER PLANNER
The best place to start is with our Teacher Planner. This set includes the following:
Undated Monthly Calendar (12 months)
Make this undated calendar your own to keep track of anything in your work-life schedule: work days, conferences, meetings, and more. You can also use it to help track and log extra tutoring hours or in-service credit hours.
Lesson Planning Pages (36 weeks)
These planning pages have four roomy boxes for each day of the work week, giving you plenty of space to plan out lessons and jot down the learning initiative the activities fulfill. Each week also has a designated spot for your to do list, notes about emails/calls, and plans/reminders for the following week.
Two sets of supplemental pages (25 sheets, printed front and back)
As a part of the planner you can choose two sets of inserts, each of which we will detail below. You also have the option to add up to two additional sets of supplemental pages for a small cost.
The Student Roster/Gradebook allows you to keep tabs on student attendance, assignments, grades, or any other records you may possibly need. It is designed for Kindergarten on up and can be a perfect addition for homeschoolers too! Even when much of attendance and grades is now entered into an online medium, in a day-to-day situation it's still often easier and more convenient to put pen to paper to mark things down.
Communication with parents and guardians is a necessary part of any teacher's work life. However, if you keep track of your discussions or emails with parents by making little notes on post-its or long lists on scrap pieces of notebook paper, there's a chance all that effort will be lost to memory, thus adding even more to your already full plate when you have to re-do a call or try to remember if you already sent an email to a specific parent. Our Communication Logs, added into your teacher planner, are a convenient spot for contact information, notes about a conversation, and any follow-up plans you discuss.
If you're going to be contacting parents, it's obviously helpful to have contact information handy! Our basic Contacts insert is an easy way to keep information for a variety of contacts (parents, school representatives, other faculty and staff, etc.) all in one place.
Assignment Tracker inserts are a super versatile tool. On the front are five rectangular boxes--one for each weekday--and a column to write down any "Thinking Ahead" ideas. The backside has a lined area for notes and ideas, a place to write down goals, and a "Don't Forget" reminders box. These inserts can help you plan out your week, keeping track of assignments you are collecting to grade, or ones you are planning to assign for homework, etc. They can also be useful to track small group meetings with students, running reading records, and other weekly tasks.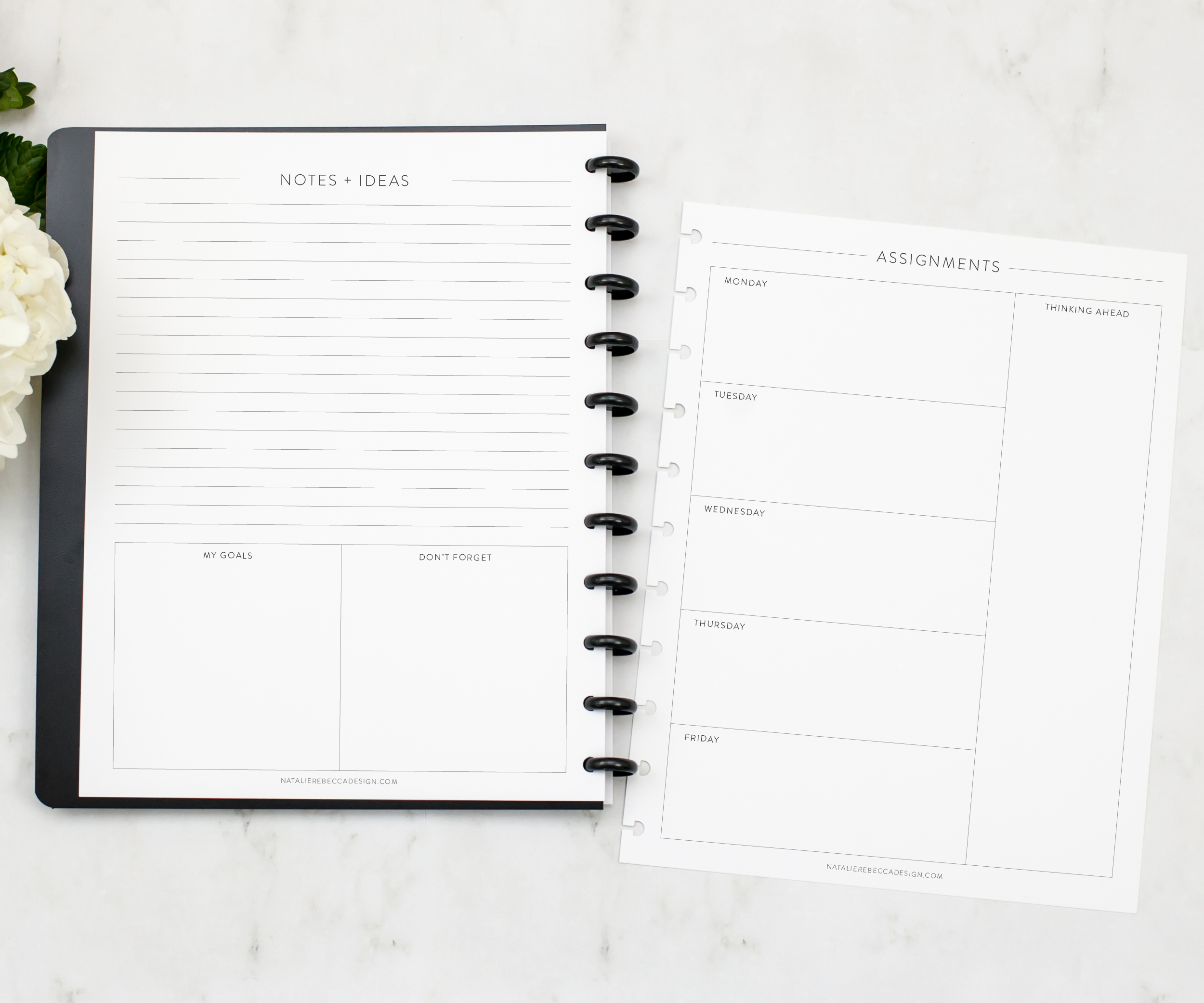 Let's be real. Teachers have a plethora of accounts to keep track of. Teachers Pay Teachers. Credit Union. Online Learning Platforms. Retirement Account. And many more. There's nothing more frustrating when you just need to quickly log in to an account to wrap up the last thing of the day, and you can't remember your password. Now a simple task has become an ordeal. These Password Tracker inserts are the perfect place to keep a record of passwords or other sensitive information so you're never in a situation like the one described above.
Just as their name implies, Simple Dots inserts are simple pages with dots on them. You can use them to sketch out a seating chart, make a list of ideas from a staff workshop, take notes during conferences or student presentations, brainstorm to help plan out a lesson--the possibilities are endless. (Want even more ideas about Dots pages? Check out our "Fallin' for Some Dots" blog here.)
DURABLE COVERS
Now that you have your inserts, you need a great way to put them all together. Natale Rebecca Design offers seven different cover designs--three of which are reversible if you like to change things up periodically! These Covers are made of a unique matte material that is strong and durable while also being lightweight and semi-flexible. As an added bonus, they are easily cleaned and wiped off, so your cover can stay germ free and look fantastic no matter how many years you've had it.
CUSTOMIZABLE DIVIDERS
Another great addition to your teacher planner are dividers. If you want your planner to be organized by month, check out our Monthly Tabbed Dividers, which are available in five different designs. If you'd like your planner to be more customized, Blank Dividers offer the flexibility to be whatever you need them to be! You can write on the mylar-coated tabs with Sharpie or Vis-A-Vis markers, but also wipe them clean with rubbing alcohol to re-label them as your needs change. And if a crisp, clean look is your thing, you can opt to use a label-maker for each of your tabs.
---
Many of the items we've covered here are available to teachers in other forms, but what sets the BetterNote system apart is its unique, flexible nature. Instead of managing a variety of different books to track the many different responsibilities teachers have, just one planner can be organized and personalized to exactly what you need. You can have the pages you use most, organized in the way that makes sense to you and your job, divided up with monthly dividers or ones you label accordingly. (Want to better understand this concept of a perpetual planner? Read our blog about the BetterNote system here. Want to see it in action? Watch our video here.)
Teaching is a tireless job that you invest your heart and soul into! We hope our products can make all that effort just a little bit easier, no matter what age or stage you teach.