Much of the discussion we have here at Natalie Rebecca Design focuses on how to use our disc-bound system. However, a size we offer our inserts and dividers in that sometimes goes unnoticed is our A5 system. Unlike the disc system, A5 inserts are not punched with disc edges. Instead, these inserts come with two sets of 3 holes (6 holes total) and are used in a ring binder. With pages measuring 5.83 inches wide and 8.27 inches tall, these inserts are similar to the popular half letter (8-disc) size (5.5 inches wide, 8.5 inches tall) but are slightly more square, which some people prefer. Individuals who used Filofax-style planners or address books in the past may enjoy the familiar feel of the A5 inserts.
A5 planners have the same level of customization as disc systems—they just use a more traditional binder format to hold in the pages. While the customization of each style is similar (you can add pages, remove pages, and rearrange as necessary), A5 has the advantage for the speed at which you can set up your system. Disc-bound inserts must be added in small batches as you pop the edges into the discs. On the other hand, A5 inserts can be added in larger sets at one time since you are simply placing them inside the set of rings.
Perhaps what sets the A5 style apart the most from the disc-bound style is its cover. Disc-bound systems generally have covers made of a rigid, yet pliable material that pops into the discs just as the pages do. The cover isn't secured in any way other than the binding, and any extra storage you need (zip pouches, card holders, sheet protectors, etc.) must be added inside the planner. By contrast, A5 covers come in a huge variety of materials and styles. Options for binder covers, which include the rings secured inside them, range from quality leather, to leatherette, canvas, to fabric, and even soft pvc. Usually these covers have a method of closing around the pages in a book-like fashion, such as a clasp, a snapped strap, zippered edges, a vertical or horizontal elastic band, a magnet, or something similar. This design offers enhanced stability compared to disc-bound systems, and it often contains extra built-in storage, as the inside of the covers can come with pockets to hold notecards, stickers/labels, post-it notes, business cards, pens, etc.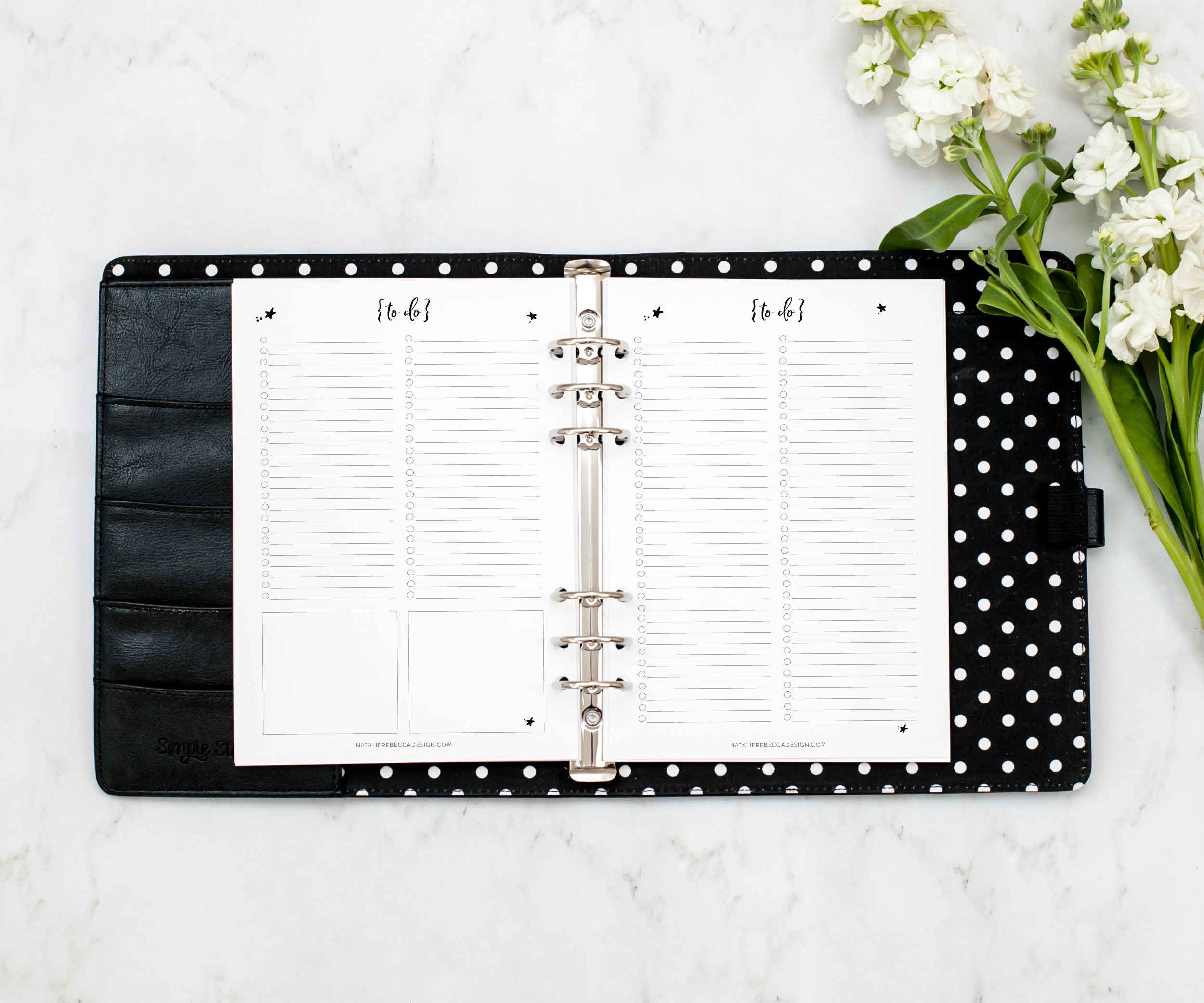 One factor to consider when purchasing a ring-bound system is the size and quality of the rings. Different covers will come with different sized rings that are difficult (and sometimes not able) to be changed out, which could limit the amount of inserts you can include at one time in your planner. If you want to have space for dividers, a calendar, planner inserts, and more, you'll need to select a ring size that can accommodate all your needs. You'll also need to be sure the rings included with your purchase are sturdy and have the ability to stand up to the use they'll endure. In contrast, with a disc-bound system you can keep your cover and all your inserts and simply purchase smaller or larger discs if you find your needs have changed or something needs to be replaced.
While the cost of binder-style systems can get expensive, the variety of options available allows you to choose the best fit for your needs. For this reason, as mentioned previously, it's important to first think about how you will use your planner. Do you want to keep it small and portable? Will it mainly stay at home on your desk? Are you planning to include a variety of organization items such as a calendar, to do lists, and meal planning? Will your planner just focus on one aspect of your life, such as your budget or a large project/event? Your lifestyle and the purpose for your planner matters, as this will help determine what style ring-bound system is best for you, so it's important to take the time to consider your needs before you purchase a cover and inserts for your A5 planner.
In a nutshell, the size of the A5 planner and the design of the covers strike a nice balance of being sturdy and portable, while also giving you adequate space to write and the ability to store necessary additions. There are various ways to design and accessorize a ring-bound system, but with so many options available it's necessary to carefully consider your needs ahead of time.